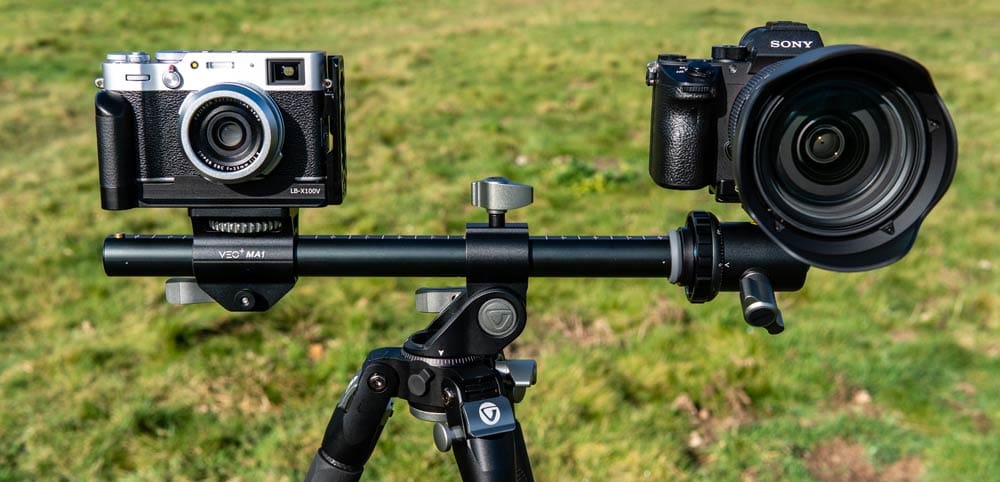 The Vanguard VEO 3+ 263CB Carbon Fibre Tripod with the VEO BH-160 Arca Compatible Ball Head is Vanguard's most recent member of the hugely popular VEO range. But this new model takes Vanguard tripods in an exciting new direction with a more robust, easy to use and indeed stylish design. Is this the Vanguard's best tripod to date?
Tripods are an essential accessory for many photographic subjects and situations and are one of the most important purchases you can make alongside your cameras and lenses. There are many factors to consider and features to look out for, and the VEO 3+ manages to address the majority of requirements photographers typically have, with a few surprises thrown in for good measure.
VEO 3+ info at a glance info
Multi-Angle Central Column (MACC} moves almost 360° in any direction for the perfect setup for any shot, from landscape to macro
MACC can be used as a multi-mount with the VEO+ MA1 Adaptor (included free in-pack)
Extends to 172.5cm/67/ 9/10 inches and has a maximum load capacity of 15kg/33lbs
Folds to 76cm/29 9/10 inches and weighs 2.1kg/4.7lbs
26mm diameter carbon fibre legs with 3-sections
Includes a tripod leg that converts into a monopod
Easy set, solid and easy clean twist locks
Three easy set leg angles (23°, 50° and 80°) with innovative push button lock
Includes rubber feet that can be replaced with spiked feet (provided)
Removable hook can be used to hang weight for additional stability
Arca-compatible VEO BH-160 Ball Head with QS-60 V2 quick release plate
Premium padded tripod bag with shoulder strap and internal zip up pocket
Features
The VEO 3+ is a sturdy, yet lightweight tripod with a Multi-Angle Central Column (MACC) that allows for the centre column to be positioned horizontally at three different angles. This makes it possible to position your camera close to the ground with the legs spread out and centre column in a horizontal position, or over objects such as walls when the legs are extended.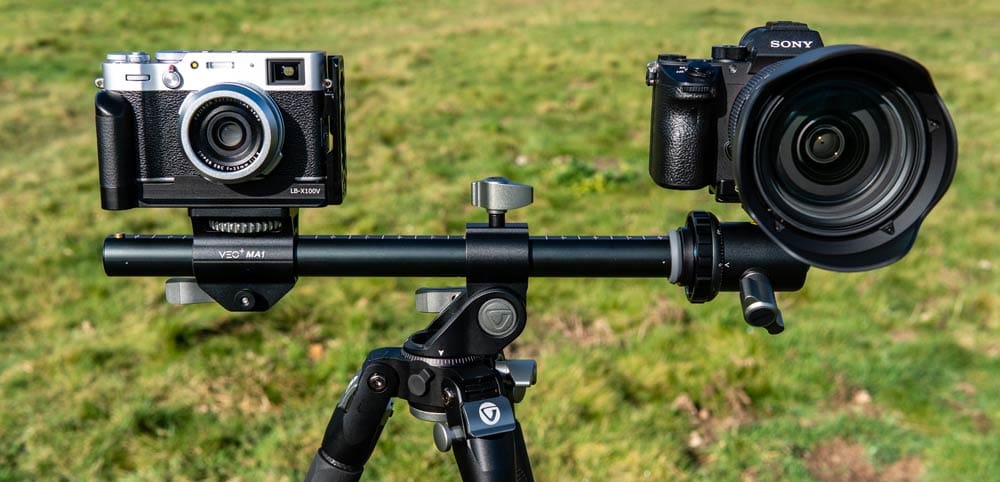 One great new feature of the MACC is that the VEO 3+ comes with a free VEO+ MA1 Adaptor, which attaches to the centre column and provides an attachment point for accessories such as a video monitor, an LED light, a microphone, a tripod head or anything you need to attach to the tripod.
The VEO+ MA1 Adaptor slides onto the bottom of the centre column after the hook for attaching weight to the tripod to increase stability is removed. One is included but you can purchase additional adaptors separately if you need to attach more than one accessory at a time.
This is a full-size rather than travel tripod, and as such it provides a high degree of stability in a package that weighs just 2.1kg. Despite this low weight for a tripod of this type, the VEO 3+ extends to a maximum height of 172.5cm with the centre column extended, and 147cm with the column down. This is with a maximum load capacity of 15kg, so it's more than capable of safely supporting the majority of camera and lens combinations. The folded length of the tripod is 76cm.
Few tripods come with so many free accessories, and on top of the VEO+ MA1 Adaptor and metal spike feet, the VEO 3+ also comes with a premium padded carry bag with an accessory pocket for carrying the spiked feet and adaptor. The bag is great for keeping the tripod safe while in transit in the boot of a car and makes it comfortable to carry if you prefer not to attach tripods to your camera bag.

The head that's included with the kit is the VEO BH-160 Arca Compatible Ball Head, which features an oversized metal locking knob providing a huge amount of grip. There's also a spirit level and a pan lock alongside a grading system on the base to assist when shooting panoramics, and a side slot for moving the camera into portrait format. All knobs are made of machined aluminium, in keeping with the tripod legs.
Build and handling
The overall design of the tripod is, in some ways, simplified compared to the Alta Pro 2 range of tripods; all controls, apart from the leg locks are made of CNC machined aluminium, providing both robust and more tactile knobs and dials that are incredibly easy and comfortable to use. So, not only does the tripod handle well, it looks fantastic too.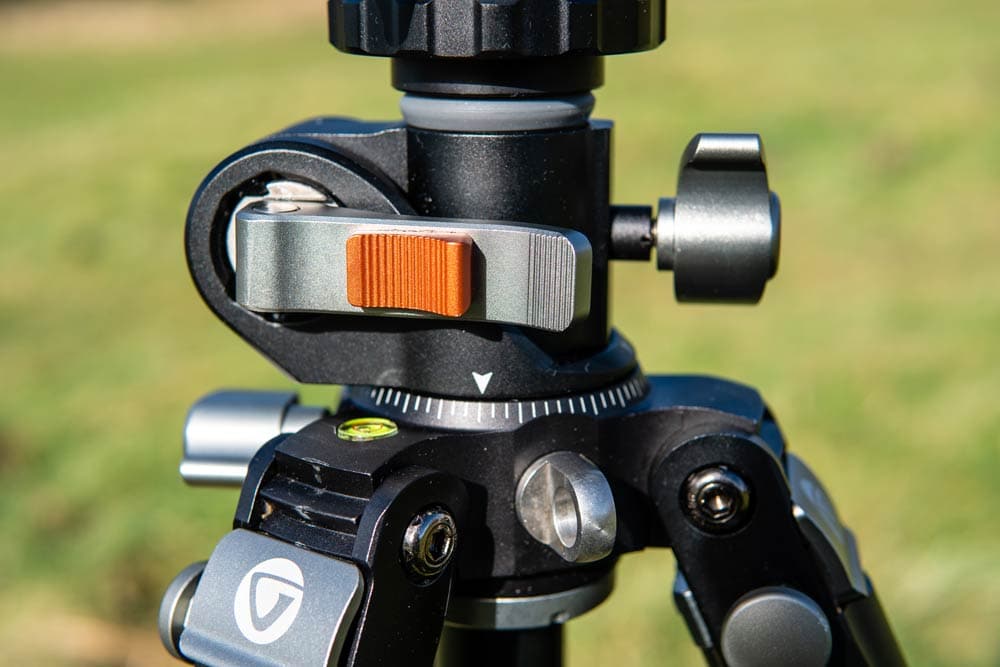 The 26mm diameter three section carbon fibre legs can be set at 23°, 50° and 80° angles to provide stability in a range of situations as well as control over height. These positions are locked in place with the metal notches at the top of the legs and released with the push of a metal button that makes changing leg position quick and easy.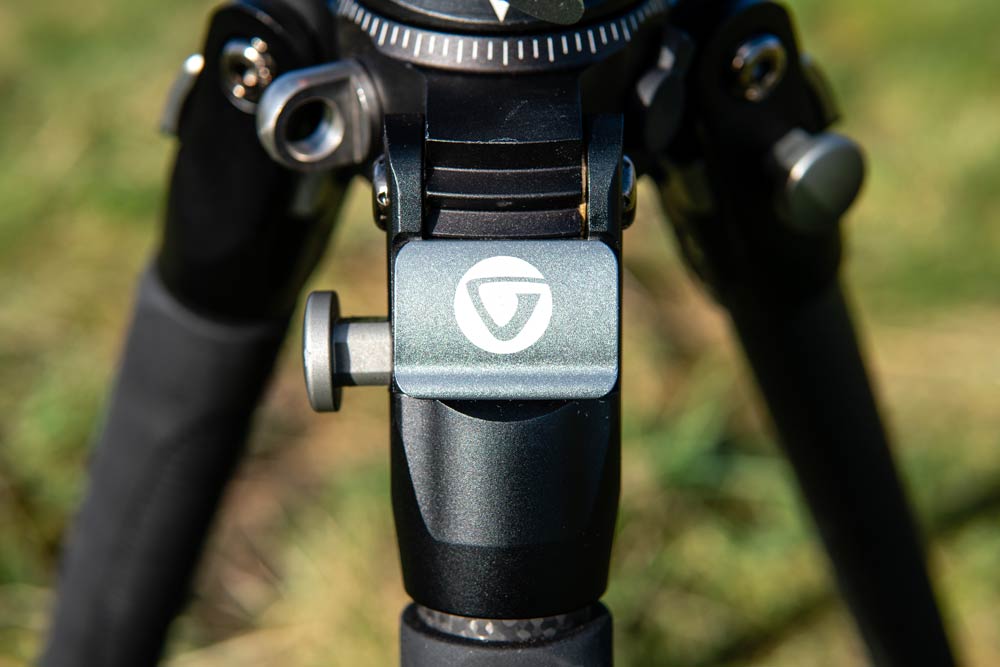 The leg locks, for each section, can be taken apart and reassembled with ease for cleaning, and one of the legs can be unscrewed to be used as a monopod at heights of up to 182.5cm. The monopod leg and one other also feature a rubber coating that makes carrying the tripod more comfortable and improves grip. Other leg features include the ability to remove the rubber feet and screw-in the included metal spikes for additional grip when required.
Vanguard VEO 3+ 263CB Carbon Fibre Tripod verdict
The Vanguard VEO 3+ Carbon Fibre Tripod is easily the best tripod Vanguard has produced to date and sets a new direction for premium design and features that make the tripod a compelling option for enthusiast and professional photographers alike.
Build quality and handling are superb, and the minimum height of ground level to a maximum height of 172.5cm make the VEO 3+ an incredibly versatile option for a wide range of photographic subjects. The folded length of the tripod is 76cm, which is long but this is standard for full-size three section tripods; the advantage here is that the legs are made of fewer sections which ultimately improves stability because the lower sections don't need to be so thin.
Tripod accessories are often available as separate purchases, but the VEO 3+ includes the VEO+ MA1 Adaptor for attaching accessories to the centre column, the spiked metal feet and the premium padded carry bag.
The Vanguard VEO 3+ Carbon Fibre Tripod with the VEO BH-160 Arca Compatible Ball Head offers everything you could ever need in a full-size tripod, and much more; with the features and included accessories you get absolutely everything you need in a single package, and at £299 it's competitively priced.
If you purchase the tripod from the Vanguard website you can save 20% using my code: VA-JA20
To purchase the VEO 3+ directly from Vanguard UK click here
To purchase the VEO 3+ from Amazon click here
---
The Digital Darkroom: The Definitive Guide to Photo Editing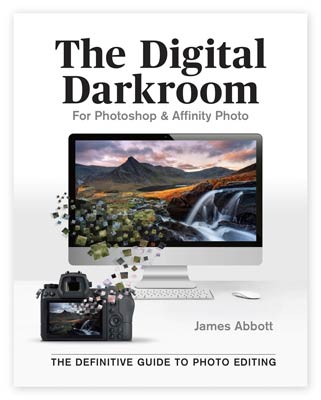 My new book, The Digital Darkroom: The Definitive Guide to Photo Editing is now available. Photo editing is a vital part of the image-making process. Just as darkroom techniques were important skills to learn in the days of film, a clear understanding of post-processing is now key to getting the most out of your digital pictures. Easy to follow and accessible for readers of all levels of knowledge, The Digital Darkroom is the definitive guide to post-processing for users of Adobe Photoshop and Affinity Photo.
To find out more and order your copy click here
---
Improve your photography and Photoshop skills with a 1-2-1 training session
If you enjoyed this post you can support this blog on Ko-fi here
Check out more of my Photoshop tutorials on my blog, or visit my YouTube channel where you can subscribe to stay up to date with new videos www.youtube.com/jamesabbottphoto
To take a look at my landscape photography click here