Have you wanted to get involved with the NFT craze, but haven't been able to get signed up to one of the existing NFT marketplaces due to long waiting lists and/or the need for a referral? Coinbase NFT could be your next chance to join 2021s biggest craze.
Coinbase, the US-based cryptocurrency exchange is about to launch its own NFT marketplace, and at the time of writing already has over 1.3m people signed up to the early access waiting list. This is a huge number, but this new marketplace provides another opportunity to sell your own NFTs through a reputable cryptocurrency exchange.
Coinbase NFT
Coinbase NFT will launch in late 2021 and will initially be available to US residents aged 18 and over. If you're interested in joining Coinbase NFT but are based outside of the US, it's still worth signing up because individuals on the waiting list will be alerted when additional countries are added.
Sign up for the Coinbase NFT waiting list here: https://t.co/O8NWZaQv7Q
Sign up to Coinbase and get $10/£7.29 of Bitcoin for free when you buy or sell $100/£72.94 worth of cryptocurrency: https://www.coinbase.com/join/abbott_6gu
Can Coinbase NFT improve the NFT market?
Many NFTs are minted, bought and sold on the Ethereum blockchain, which is extremely congested and results in slow transaction times with excessively high fees compared to other blockchains offering the same functionality.
With many other blockchains offering smart contract functionality with much faster transaction times and drastically cheaper fees, fingers crossed that having a cryptocurrency exchange providing an NFT marketplace will mean there's the opportunity to use alternative blockchains to mint, buy and sell NFTs.
---
The Digital Darkroom: The Definitive Guide to Photo Editing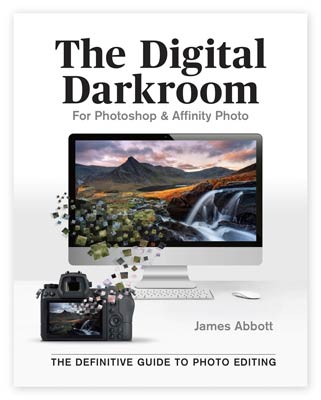 My new book, The Digital Darkroom: The Definitive Guide to Photo Editing is now available. Photo editing is a vital part of the image-making process. Just as darkroom techniques were important skills to learn in the days of film, a clear understanding of post-processing is now key to getting the most out of your digital pictures. Easy to follow and accessible for readers of all levels of knowledge, The Digital Darkroom is the definitive guide to post-processing for users of Adobe Photoshop and Affinity Photo.
To find out more and order your copy click here
---
Improve your photography and Photoshop skills with a 1-2-1 training session
If you enjoyed this post you can support this blog on Ko-fi here
Check out more of my Photoshop tutorials on my blog, or visit my YouTube channel where you can subscribe to stay up to date with new videos www.youtube.com/jamesabbottphoto
To take a look at my landscape photography click here