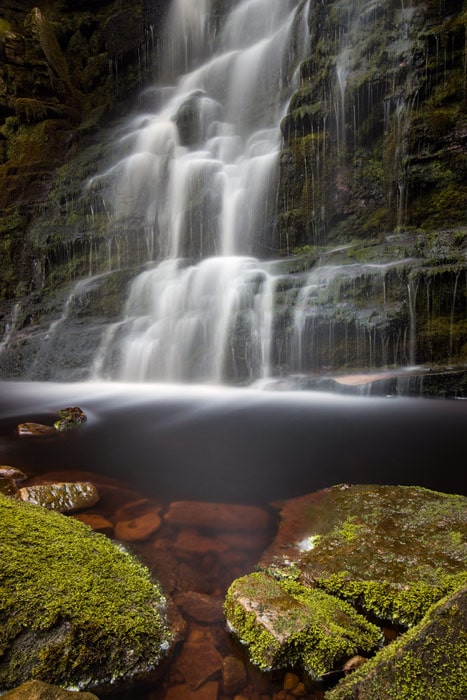 Middle Black Clough Waterfall in the Peak District is an amazing location for long exposure photography. And with interesting streams leading up to the falls, there are plenty of photo opportunities that could easily keep you busy for a day. The main falls themselves are in a small area, so you'll need a wide-angle lens to fit everything in. Something like a 16-35mm on full-frame and 10-20mm on APS-C cameras is perfect.
How to get to Middle Black Clough
On this route there are points where you'll need to cross streams, and once at the waterfall you'll need to walk through water. A pair of wellies with good grip will definitely help you get the best out of the location. If there has recently been heavy rainfall reaching the location could be dangerous, if not impossible.
Middle Black Clough can be found at the end of the Longdendale Valley. It's a short walk (20-30 mins) from a free car parking area just off the A628 Woodhead Road. When driving west along the A628 there's a small, and easily missed road leading off to the left. Take a look at the map below and scroll along the A628 for a more precise location and to find a nearby postcode.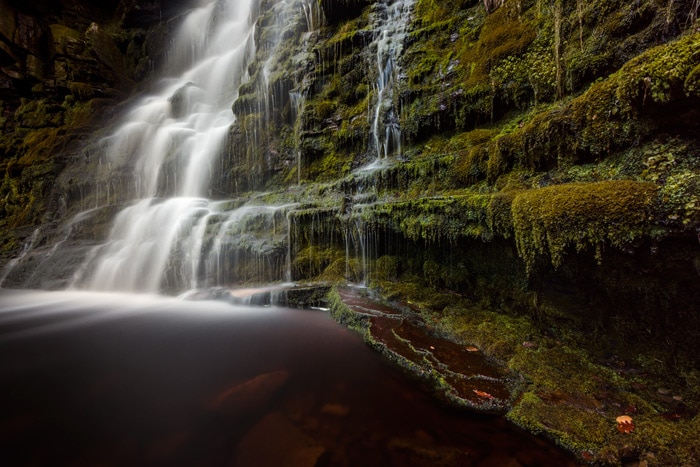 Once you've parked up there's a bridge to the right of the car park, cross this and go over the stile next to it on the left. Now it's simply a case of following the path keeping the stream on your left. When the path turns to the right continue in this direction with the stream still to your left. You'll shortly enter an area of trees – keep walking until you reach an open area.
To your right you'll see a steep narrow path going up the hill, and to your left the steam will have widened and you'll see an island and stones that can be used to cross. Follow this route, and cross the stream so it's now on your right. You'll soon come to a junction. Follow the path to the left keeping the stream on your right. You'll now need to climb over the boulders and you'll quickly see Middle Black Clough not too far ahead.
---
The Digital Darkroom: The Definitive Guide to Photo Editing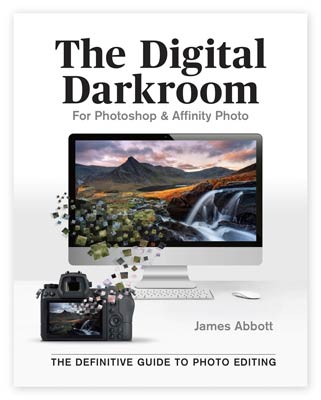 My new book, The Digital Darkroom: The Definitive Guide to Photo Editing is now available. Photo editing is a vital part of the image-making process. Just as darkroom techniques were important skills to learn in the days of film, a clear understanding of post-processing is now key to getting the most out of your digital pictures. Easy to follow and accessible for readers of all levels of knowledge, The Digital Darkroom is the definitive guide to post-processing for users of Adobe Photoshop and Affinity Photo.
To order your copy click here
---
At a glance information
Name: Middle Black Clough, High Peak
Postcode: SK13 1JE
Location: Grid Ref: SK 1138 9796 • X/Y co-ords: 411382, 397961 • Lat/Long: 53.47829819,-1.82998083
OS Explorer map: OL1: Peak District
what3words for parking: zealous.unsecured.salon
what3words for waterfall: incurring.clearly.passion
Below is a slow motion video of Middle Black Clough waterfall shot on a GoPro Hero 4 Silver. This was filmed during a spring visit a few years ago, and it's amazing how much the location can change depending on the flow of water. No two visits are ever the same.
Here's a URL for the map above that can be saved to your phone.
https://goo.gl/maps/X24SGBpRMNtJtF1v9
To take a look at more of my landscape photography click here
For information about my one-to-one landscape photography courses click here